hrx home // Ramp Up overview // board game


The Ramp UpTM Your Performance board game is based on the Human Performance Improvement (HPI) model. It works much like Trivial PursuitTM. Participants get to test their knowledge from the lecture portion of the session while having a lot of fun. Up to six participants can play on one board game at one time.



After three hours of workshop lecture plus a lunch break, the board game activity engages students in critical thinking through the practical use of the HPI model in business applications. The foundation of what has been learned is put into action in a fun team-based activity. Participants often get so involved in the activity that they don't want to stop.

The main goals of the Ramp Up Your Performance game are:
Work your way through all 6 phases of the HPI cycle
Answer as many questions correctly as possible to earn "Performance Bucks"
Answer as many challenge questions correctly to earn additional "Performance Bucks"
Learn essential pieces of the HPI phases as you progress through the cycle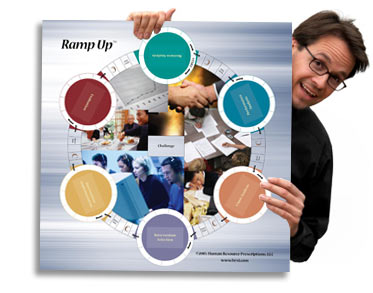 Each Ramp Up Your Performance Game comes with:
Ramp Up Your Performance game board
Quiz cards: 7 decks of 10 cards each
30 pieces of play money
6 game player pieces
2 dice
Instructions on how to play the game
Game Instructions: Download here >>.

Purchase the Ramp Up Your Performance Board Game, Now!

The board game can be purchased by clients who have completed the Ramp Up Your Performance workshop, and by certified Ramp Up Your Performance trainers. The board game is not available to anyone who has not participated in the workshop. If you are an HPI learning professional and want to purchase the Ramp Up Your Performance board game, please contact us.